I have been testing many Chinese-made knives; some are Japanese-styled but then made in China. I got a few emails asking me about a few certain knife brands seen on Instagram as an advertisement. Sometimes they don't agree with my reviews on YouTube, but once I asked them how much they paid, I was stunned! They pay up to 5 times more than you can get the knives on AliExpress. This article will showcase how those fake Japanese knife scam websites operate and how you can identify one.
Where do I buy my Chinese made knives and why?
I buy most of the knives on AliExpress because they are cheaper than buying them from a reseller or other websites like Amazon. Some of the brands do operate their marketplace store on Amazon or other websites. For Bulk orders, you should buy it on Alibaba (starting at a minimum order of 10 of the same knife). Remember that you should always wait for a discount on AliExpress for around 40% to 60% off before buying. The resellers and official stores have exclusive sales throughout the year. You have to wait a day or a week, and the product is on a 50% discount again.
Fake Japanese knife scam on Instagram
There are a lot of fake knife brands or companies on Instagram. Most of them use the advertisement option (Instagram ads, FB ads, Google Ads, etc.) to lure you to their website. But some of them are also using Instagram influencers with around 5k followers or lower to promote their knives. The magic behind Instagram is that it is a short video or just a picture with no real reviews about the product. And most Instagram Influencers don't double-check the company as long as they pay for a sponsored post or as long as the product is free.
Read the Instagram comments
It is advised that you always read the comments, and you will notice a pattern. They never reply to bad comments and, in most cases, delete them. But good that you can see the comment counts on Instagram. If you see 50 comments, but only 5 are visible, they probably blocked the person saying a bad thing about their knives. Most bad comments come from people that did not get their order within a month.
The Japanese knife scam website red flags checklist
If the website offers at least "6" of the following, you have a scam website.
Tries to be Japanese by giving their knives a Japanese sounding name
Limited time offer
Buy 1 get 1 free or buy 2 get 1 free
It never mentions where they are made
An extreme discount of 40% or more for a limited time
Mentions of Japanese forging techniques
Using Designed in (a different country or Japan) instead of Made in……(everyone can get a laptop, travel to Japan, and put "designed in Japan")
All customer reviews are 4 or 5 stars (heavy censoring on their website), with no low star ratings.
Website powered by Shopify (Shopify is a legitimate platform that scammers abuse)
Refund and returns have to be sent back to China (if they ever respond to your RMA)
Long shipping time of 2 to 8 weeks
Processing time of 2 to 4 days
All the knives that they offer can be found on AliExpress under a different logo.
Japanese Damascus Steel (steel might be from Japan or not, but the knife is not made in Japan)
How do those scam websites operate?
As you might have read in this article, they promote all their knives through Instagram and then sell them via Shopify. Shopify is a legitimate business; however, many scammers use (abuse) Shopify since it is easy to use and easy to integrate an automatic system. They use something called "drop-shipping". They don't hold any inventory. All orders go directly to the seller that provides "drop-shipping service". It means that they have no inventory, and all they need to do is sell the knives at a higher price to cover their own cost, which means a profit margin of 100% per sold knife.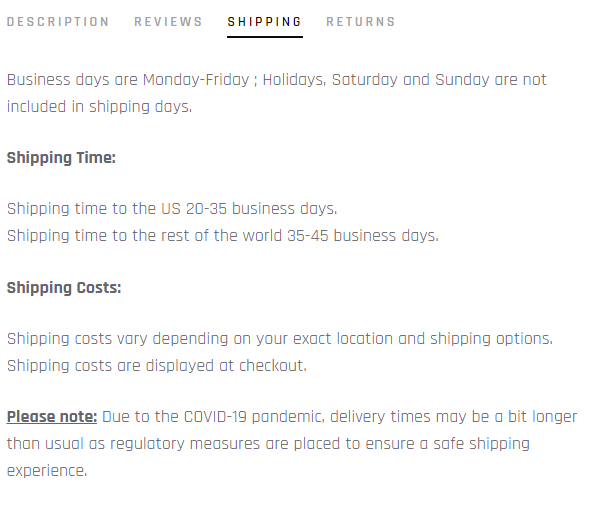 In the mind of a Japanese knife scammer
They have no inventory low start-up cost like $10USD per month for the Shopify account. One sold knife will make you a profit of $40 to $60+. To generate sales, you need good advertisements where nobody will question your knife's legitimacy, and that is Instagram. Use the popularity of Japanese knives. Give out free samples to Instagram influencers/ home cooks with a following of 5000 followers and start generating customers. Sell as many fake Japanese knives as you can once it starts generating some bad reviews on other platforms like forums etc. restart everything under a different Japanese branded name. Or restart once there are too many refund complaints under a different name and address.
Scammers automation system
The sellers only run a few ads and never have to look back. The orders coming in from Shopify can be copied to an XML file. The scammer sends the XML File to the AliExpress seller with a push of a button on Shopify. The seller on AliExpress gives them a fixed price for all the orders. Once he paid the AliExpress seller, the AliExpress seller will handle the shipping. Unfortunately, there is some work to do. You have to censor all bad comments and even generate fake reviews at the start, which requires a little bit of effort. Once there are too many refund requests, you can handle or too many negative reviews, restart under a new name, and worry-free since you have a fake address and company that was not trackable. You have to spend 5 minutes after a hard working day of heavy censoring and email your AliExpress seller the XML file that includes all the orders and shipping addresses that have been collected through Shopify automated systems.
Knife Example
The knife in this video cost around $10. The scammers sell the same knife for $40—a profit of $30. However, the seller that generates at least 50 orders can get a discount, so $7, a profit of $33. They even generate extra money by charging the customers shipping & handling cost if the order is not above $50, Charging $15 for something that they didn't even do in the first place. It is a profit of $48 per order, let alone the special deal of buy 2 get one free if the customer gets tricked by that. It is a profit of $107 per order. Should the scammer worry about returns and damaged or never delivered goods? No, you censor them, never reply back and once it blows up, start over again under a new Japanese branded name.
Final notes
I find it hard to see those scammers getting away with what they do. I find it unbelievable how many customers got scammed. I appreciate the emails and even the emails that have some negativity towards me for reviewing those "Chinese made knives" and giving it a good rating while you paid $50+ for a knife that can be bought for $10. I'm sorry that you got scammed. I hope that you can spot some of those scammers after reading this article. There are really good businesses around Shopify, and there are indeed good Chinese-made knives.
Since I have some reach with my website, I hope to avoid some new victims for those scammers. Remember, we are not witch-hunting. The goal is to prevent those sellers by giving you the information on how they operate and how you can spot them.
If you know someone that was scammed by one of those websites, share this article with them.
If you have any questions about this subject, leave your comment behind.
▶ If you want to know what knife you should buy you can read 
the following article ''Choosing your knife''. 

▶ On my youtube channel, I have reviewed a lot of different knives.
You can watch the playlist by clicking here.  

▶ Click here, if you want to search for other
kitchen knives on:  Amazon.

▶ Click here, if you want to search for other 
Chinese knives on AliExpress.

▶ Check out my gear on Kit:  https://kit.co/ChefPanko 
▶ Check out my recommendation on Amazon:
https://www.amazon.com/shop/chefpanko

Full Disclosure: 
If you purchase from these links I get a small commission 
that goes towards supporting the channel and website.

As an Amazon Associate, I earn from qualifying purchases

▶ If you have any questions about Japanese knives made in China 
or about some of the brands feel free to ask it in the comment section below.   

Thank you for your support and feedback.  

▶ Want to work with me? Please use the contact form by clicking here.
Don't get scammed
Better than a scammers website?
Cheaper than a scammers website?
Better delivery as a scammers website?